In today's fiercely competitive business era, creating trust and satisfaction for customers is the leading principle of any business. With the explosive development of information technology, the management of stored, shared, accessed and controlled information is highly complex and risky. Therefore, the security and information security are very concerned by organizations and enterprises.
Particularly for service characteristics provided by BPO.MP such as data digitization, data entry and data processing, financial & accounting services, DTP image processing, content writing, translation & interpretation and human resource services, the requirements of information security are stricter.
Capturing market requirements as well as strengthening the company-wide information security system, BPO.MP has determined the goal of obtaining ISO / IEC 27001: 2013 certification in 2019.
According to the plan, BPO.MP Co., Ltd. has completed the paperwork and process of ISO / IEC 27001: 2013 information security standard.
BPO.MP has focused on improving the system of policies, processes and regulations on information security systems, as well as investing in information technology equipment such as main information storage devices and backups, network equipment, and security equipment … to ensure the best business service and at the same time meet the requirements of the standard.
Through two serious reviews, with determination and unanimous efforts, BPO.MP's management and staff have carried out and fully met the standard requirements and have officially obtained the certification ISO / IEC 27001: 2013 issued by BSI – The prestigious certification body of the British Standards Institute.
ISO / IEC 27001: 2013 is an international standard that sets out requirements regarding the Information Security Management System, allowing business organizations to assess risks and implement appropriate controls to ensure confidentiality, integrity and availability of information assets.
With ISO / IEC 27001: 2013 certification, BPO.MP will not only commit to complying with the best information security practice standards, but also bring benefits to the company's business operations, strengthen information security, early detect information security risks to take preventive and corrective measures.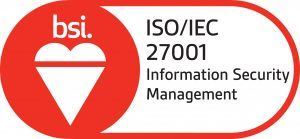 Compliance and achievement of ISO/IEC 27001: 2013 certification provides benefits in various aspects, in particular:
Operation aspect:
Standard operating procedures.
Having better knowledge of information systems, protection and restriction of information security risks by risk management.
Trade aspect:
Partners, customers, and shareholders have the confidence that their information is protected in an absolutely safe way.
Being a prominent competitive advantage in introducing marketing for company services. 
Financial aspect:
Reduce management costs
Information security related costs will be reduced thanks to good management of information security risks, resulting in very small frequency of incidents.
Organizational aspect:
The guarantee of the effectiveness of efforts helps to ensure information security for organizations at all levels.
Provide a common basis for organizations to develop, implement and assess information security management practices.
Human resource aspect:
Employees are trained and raised awareness & responsibility about information security.
Productivity and work efficiency are enhanced.
Legal aspect:
Prove to competent authorities that the organization complies with all applicable laws and regulations, in accordance with international standards.
By ensuring information safety of system and operating procedures of this international standard certification, the BPO.MP's company profile will become more and more completed, which will contribute to creating trust for customers, marking and confirming BPO.MP's BPO service reputation with partners and customers after just over a year of operation.
Hopefully, this certificate will help BPO service ofBPO.MP become more popular to many organizations and businesses as well as bring the company more opportunities for cooperation and development in the future and affirm its top position on the map of BPO service providers in Vietnam, the region and around the world.
MPBPO.COM.VN